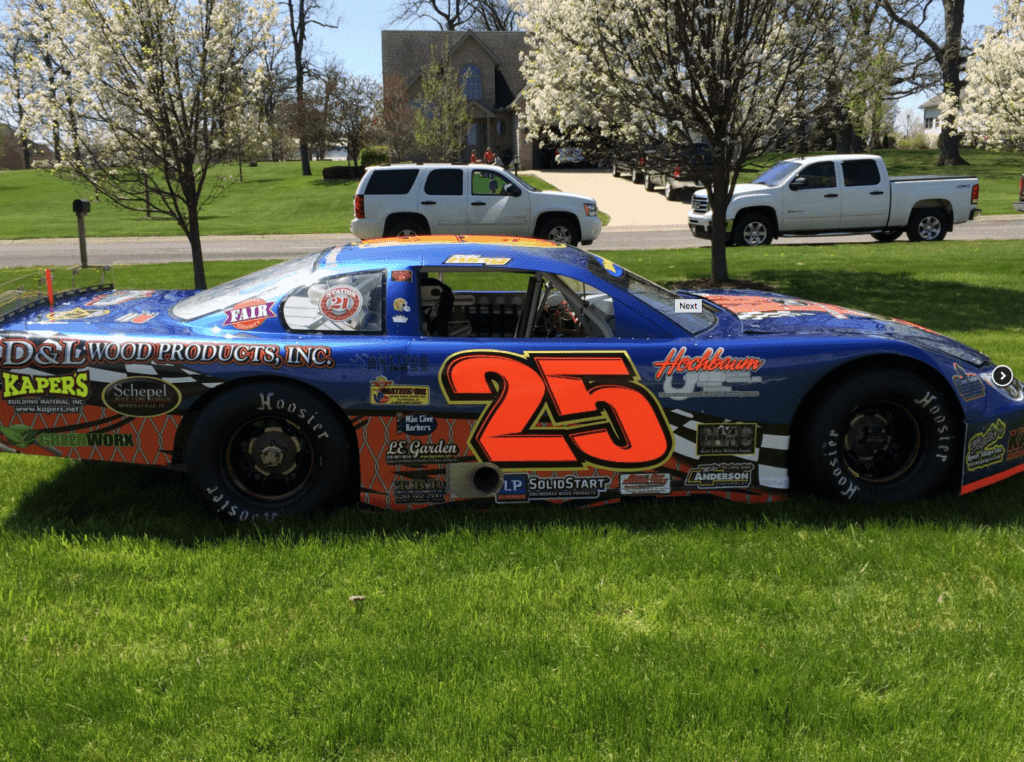 Visual Horsepower For Your Brand
Every aspect of #25 is evaluated for reliability, safety, performance, and comfort. Chris King is dressed for endurance with fire-retardant clothing, crash helmet, and protective gear. As he climbs through the safety cage to gain control and settle into the racing seat of his late-model, warm leather embraces accelerated adrenaline. This is the moment Chris has prepared for: both physically and mentally. The countdown has begun, a quick look left, then right, the initial thrust of the pedal, the engine is engaged, tires screech, and focus becomes fixed on speed, competitors, lap time, and qualifying; all the while maintaining complete control behind the late-model engine.
This is it! The asphalt is hot; #25 is prepared for this level of competition with determination and agility. Chris didn't get to this position alone, he had a sponsor, he had a team who backed him, supported him, and propelled him to push a little harder and embrace the new season, sharp turns and all!
Visually #25 is popping with its bright orange insignia and custom graphics. #25 is a mobile billboard that simply demands attention. Chris knows all eyes are on his late model…
Just as #25 represents with color, YOU too have the power to represent your brand with intentional action and dedicated focus. Are you ready for thoughtful reinvention? Consider this insightful approach; what is your story and how will you tell it? Harness an inner dose of courage and trust your innate ability to express your gift visually in your mind first, and then be ready to embrace the unmatched return on your investment with the assistance of your graphic pit crew! #25 is receiving tens of thousands of impressions every race. Visuals leave a lasting impression. What is your brand and how would you like to express it?
You have the inherent ability to win the race whether it is in the Legends Division, Entrepreneur Division or Solopreneur Division. You are already QUALIFIED.
At Big Star Production Group we bring your promotional ideas into reality. Thank you S4 Motorsports Marketing for bringing Big Star Production Group into your graphic pit crew.
In case you are wondering… "Chris earned 3rd in Qualifying, 5th in Heat, and 5th in Feature. "It was a good run for the first race of the year! Everyone loves the car!" – Holly King aka "The Kings"